Why Little Spicy is the Best Restaurant in Bangkok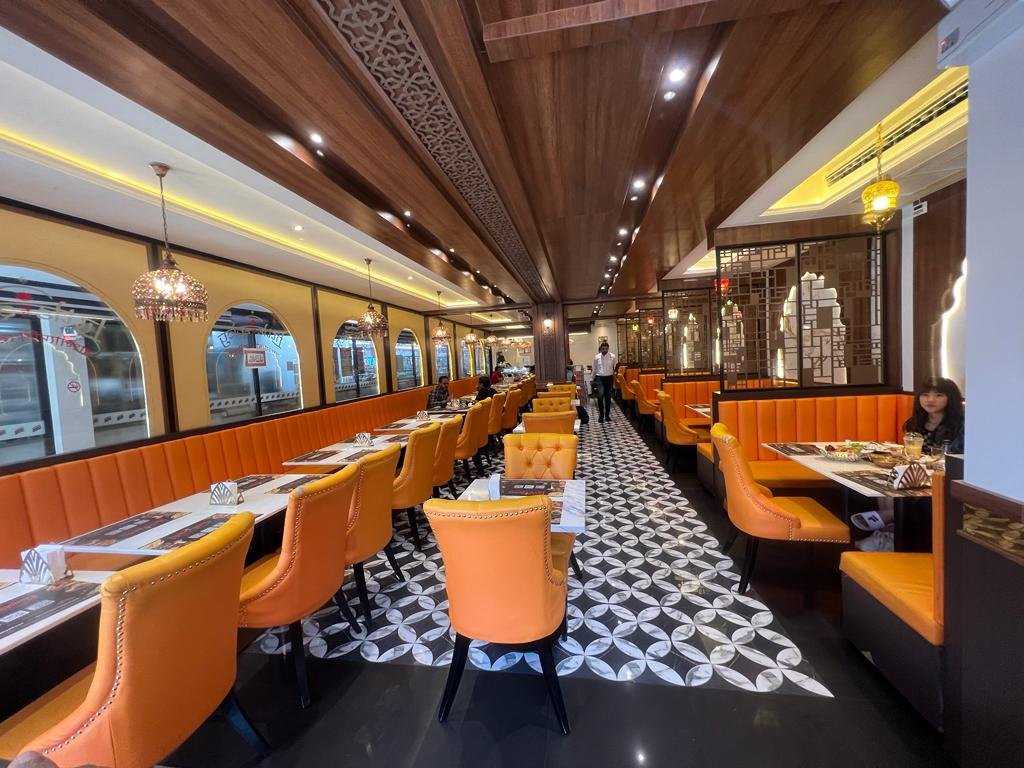 One restaurant in Bangkok stands out from the rest regarding culinary experiences, capturing the hearts and taste buds of locals and tourists: Little Spicy. Little Spicy is well-known for its superb cuisine, welcoming ambiance, and unmatched service, earning it the title of the greatest restaurant in the dynamic city of Bangkok. Visitors are treated to a remarkable mix of flavors, a magical eating environment, and a degree of friendliness that makes a lasting impression with each visit. Come along on a culinary adventure as we discover what makes Little Spicy unique and why it continues to be Bangkok's best restaurant.
Overview of Little Spicy's Menu
Exploring the Fusion of Thai, Indian & Bangla Restaurant Delights at Little Spicy: An Halal Restaurant in Bangkok.
Little Spicy's menu is a culinary masterpiece that authentically represents the flavors of Thai cuisine, meticulously prepared with fresh ingredients and traditional recipes. From tantalizing appetizers to delectable desserts, each dish showcases the perfect blend of spices and ingredients, creating an unforgettable taste experience.
Start your culinary journey at Little Spicy. The appetizer selection offers many flavors, including spring rolls, fish cakes, and papaya salad. These appetizers are bursting with bold and vibrant tastes, setting the stage for the culinary adventure that awaits.
Little Spicy's is a renowned halal restaurant in Bangkok, specializing in Thai cuisine with influences from Bengali and Indian culinary traditions. Alongside their exquisite main dishes, Little Spicy also offers an array of mouthwatering desserts and specialty drinks. It's an ideal place to savor a delightful meal with loved ones, surrounded by a vibrant and inviting atmosphere.
The menu at Little Spicy showcases a diverse range of dishes that cater to various palates. From succulent meats like chicken and beef to delectable seafood options such as prawns and squid, each dish boasts a unique blend of flavors, expertly complemented by vegetables and fragrant herbs. Little Spicy's selection is perfect for those craving the bold and enticing flavors of Indian and Bangla cuisine.
Little Spicy takes pride in showcasing Mangshor Jhol's (Bengali Mutton Curry), Bangali signature dishes, which exemplify the culinary expertise and dedication to authentic flavors that define
both Bengali and Indian cuisines. With each bite, diners are transported to a world of vibrant spices and robust flavors, creating a truly memorable dining experience at Little Spicy.
Vegetarian food enthusiasts will also be delighted by the plethora of options available at Little Spicy. From delectable green curries to flavorful tofu stir-fries, the restaurant ensures that every vegetarian palate is catered to without compromising quality or authenticity.
To enhance your dining experience, Little Spicy offers a selection of refreshing fruit juices made from locally sourced produce, providing a burst of natural freshness that complements the flavors of the dishes. The modern interiors of the restaurant create an ambiance reminiscent of Thailand's bustling streets, adding to the overall dining experience.
Little Spicy's diverse menu reflects authentic Thai flavors, offering an unforgettable culinary adventure with every visit. Whether you're a fan of Thai, Bengali, or Indian cuisine, Little Spicy is the perfect destination to satisfy your cravings for a bold and flavorful Indian & Bangla dining experience in the heart of Bangkok.
Reasons why Little Spicy is the Best Restaurant in Bangkok
When finding the best restaurant in Bangkok, Little Spicy undoubtedly tops the list. Here are some reasons why:
Firstly, Little Spicy offers authentic Thai cuisine that is second to none. The chefs use traditional recipes and cooking techniques passed down for generations, resulting in a truly authentic dining experience.
Secondly,

all the ingredients used at Little Spicy are fresh and carefully sourced from local farmers and markets. This ensures that every dish is bursting with flavor and nutrition.
Both locals and tourists rave about their experiences at Little Spicy – a testament to its reputation as one of Bangkok's top restaurants. So whether you're looking for an exciting culinary adventure or want to enjoy some delicious food, visit this restaurant gem!
-Authentic Bengali and Indian cuisine Little Spicy's
Little Spicy's also offers some of the best Indian and Bengali cuisines in Bangkok. With a focus on fresh ingredients and authentic recipes, they offer a variety of flavorful dishes that will satisfy your craving for spicy food. You can tuck it into dishes such as chicken curry, Pumpkin & Date rice, or Fish in Spicy Onion Nut & Coconut Gravy, each as delicious as the next. And take
advantage of incredible desserts such as Rasmalai and Gurer Payesh! Visit Little Spicy's today for a meal of delicious and authentic Indian and Bangladeshi flavors.
The Bengali and Indian cuisine of Little Spicy is perfect for anyone looking for authentic flavors. The restaurant provides an array of flavorful options to suit everyone's tastes. From traditional curries to flavorful biryani and more, Little Spicy's has something that will tantalize your taste buds. Visit Little Spicy's for a taste of unforgettable Indian and Bengali cuisine.
– Fresh ingredients
Fresh ingredients are the foundation of any great dish, and Little Spicy takes this very seriously. They believe using fresh, high-quality ingredients is essential to authentic Thai cuisine.
To ensure their dishes are always made with the freshest ingredients possible, Little Spicy sources their produce from local markets daily. This means that everything you order will be bursting with flavor and nutrition.
One of the standout aspects of Little Spicy's menu is their emphasis on incorporating seasonal ingredients into their dishes. Each season, from juicy summer fruits to hearty winter vegetables, brings new flavors and textures for customers to enjoy.
In addition to sourcing fresh produce daily, Little Spicy also uses locally raised meats and sustainably caught seafood whenever possible. This supports the local economy and ensures that each dish is as environmentally friendly as delicious.
Little Spicy's commitment to using only the freshest ingredients sets them apart from other restaurants in Bangkok. Whether you're a foodie or simply looking for a tasty meal while exploring the city, you won't find better quality than this beloved eatery!
– Unique dishes
One of the reasons why Little Spicy is considered the best restaurant in Bangkok is because of its unique dishes. Little Spicy's unique dishes are the star of the show. They offer a wide range of  Bengali and Indian dishes. These dishes include flavorsome curries, such as murgh palak, which is chicken sautéed with spinach in a creamy tomato sauce; dahl makhani, a hearty lentil curry; and Bengal fish curry, which is a tomato-based curry cooked with mustard paste and fresh fish. 
Little Spicy also serves some of the best tandoori dishes around if you're looking for something with a milder flavor. From tandoori chicken, naan, and pea pulao to mutton biryani and butter chapati, there's bound to be something to suit your taste buds.
– Ambiance
Walking into Little Spicy, you're immediately struck by the warm and inviting ambiance. The decor combines traditional Bengali & Indian elements and modern touches, creating an authentic and contemporary atmosphere.
The seating options at Little Spicy cater to all preferences – from cozy booths for intimate meals to larger tables for groups or families. The lighting is soft but bright enough to see your food clearly, while the background music sets a relaxed tone without being too distracting.
One of the standout features of Little Spicy's ambiance is its open kitchen concept. Watching the chefs expertly prepare your meal adds excitement and anticipation to the dining experience.
Whether celebrating a special occasion or looking for a casual night out with friends, Little Spicy's ambiance sets the perfect stage for any dining experience. Unsurprisingly, it has become one of Bangkok's most popular restaurant destinations among locals and tourists.
– Service Little Spicy
Service at Little Spicy is top-notch, with friendly and attentive staff who always make customers feel welcome. When you enter the restaurant, you'll be greeted with a smile and promptly shown to your table.
The servers know the menu and can provide recommendations based on your preferences or dietary restrictions. They're also happy to answer any questions about specific dishes or ingredients.
Once you've placed your order, the service is efficient without feeling rushed. Your food will arrive quickly, but not so fast that it feels like they're rushing you out the door.
During your meal, servers regularly check in to ensure everything is satisfactory and offer water or other beverage refills. And if there's anything amiss with your order, they're quick to remedy the situation.
Little Spicy prides itself on providing excellent service alongside its delicious food. Customer satisfaction is a top priority for this establishment.
Conclusion
Little Spicy is not just a restaurant but an experience for those who want to explore the authentic taste of Thai, Indian & Bengali cuisine. The combination of fresh ingredients and unique dishes has made it one of the best restaurants in Bangkok.
Its reputation among locals and tourists speaks volumes about its quality service, ambiance, and food. Whether you're looking for a quick bite or a sit-down meal with family or friends, Little Spicy is undoubtedly worth considering.
So if you are planning to visit Bangkok anytime soon or craving authentic Thai food. Remember to add Little Spicy to your list. Trust us; you won't regret it!
Little Spicy is the best restaurant in Bangkok for several compelling reasons. A bright and warm atmosphere welcomes you inside. Which creates the ideal environment for a great dining experience. Their commitment to serving authentic Thai cuisine using fresh, locally-sourced ingredients ensures that every dish reflects Thailand's culinary heritage. The exceptional flavor profiles, ability to cater to diverse spice preferences, and the perfect balance between heat and flavor further elevate their culinary offerings. Moreover, Little Spicy's dedication to culinary innovation pushes the boundaries and introduces unique creations that captivate the senses.
If you find yourself in Bangkok, visiting Little Spicy is a must. Immerse yourself in the warm and inviting ambiance. Indulge in the authentic flavors of  Thai cuisine, and savor the innovative dishes that showcase the restaurant's culinary excellence. Whether you're a local looking to sample, little Spicy is the ideal place. The best Thai food or a traveler searching for a once-in-a-lifetime eating experience.
Little Spicy stands as a shining gem in Bangkok's culinary landscape. With its welcoming atmosphere, commitment to authenticity, diverse menu options and culinary innovation. It has rightly earned its reputation as the best restaurant in town. Get ready to be charmed by the ambiance, delighted by the superb service, and mesmerized by the flavors. Little Spicy is a culinary experience that will leave a lasting impression and keep you returning for more.